Print This Page
New Properties
Colonial Parking Parks Washington.  With over 240 locations throughout the city, you can be sure to find a Colonial parking facility nearby.  Whether you're dining in Georgetown, shopping in Chevy Chase or visiting a client in Bethesda, with Colonial you're sure to find a clean and friendly location only steps away from your destination.
Colonial continues to add new properties as our customers' parking needs change.  Just last year, Colonial added over 20 locations throughout the Washington area, including Tyson's Corner, Bethesda and the recently-developed SW area near Nationals Park.  We are continually watching as our area expands and changes, adding locations as necessary to ensure our customers always have a convenient place to park.
Colonial Lot #778 – Reston Metro Station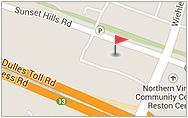 11389 Reston Station Blvd
Reston, VA 20190

Open 24 Hours per Day
Open for daily and monthly parking.

Colonial Lot #753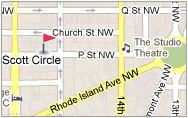 1515 P Street NW
Washington, DC 20005

Hours
Monday-Friday, 7AM – 8PM
Saturday, 7AM – 10PM
Sunday, 7PM – 10PM
If Hip is the word, then the place to be is 14th and P Streets, NW.  Trendy new restaurants are popping up every week alongside funky retail shops.  Just across the street from Whole Foods on P Street, you will find one of Colonial's newest locations, offering extended hours on nights and weekends at attractive rates.  Great parking for an evening at the Studio Theatre!
Colonial Lot #700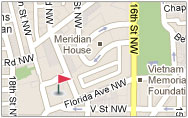 1711 Florida Avenue,
The Park at Adams Morgan

Hours
Monday-Friday, 7AM – 8PM
Saturday, 7AM – 10PM
Sunday, 7PM – 10PM
Located just off 18th Street, Colonial's newest Adams Morgan garage offers a reliable location steps away from the popular shops, bars and restaurants that line 18th Street and Columbia Road.  Whether you're coming to Adams Morgan for lunch, dinner or late night dancing, The Park at Adams Morgan is open and ready to accommodate your parking needs.
Colonial Lot #735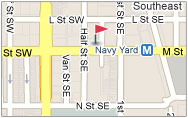 55 M Street, SE.
Hours
Monday-Friday, 7AM – 8PM
Saturday, 7AM – 10PM
Sunday, 7PM – 10PM
You won't miss the first pitch if you park just one block from Nationals Park at our newest location, which serves the stadium and the growing SE area. This covered, self-parking facility offers fans easy in-and-out parking for a great Nationals experience.