Select Colonial Parking locations integrate cutting-edge cloud technology to automate and innovate the consumer parking experience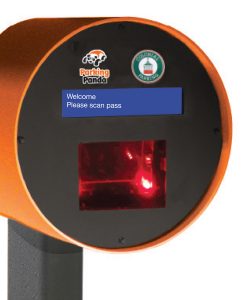 [1]
Washington, D.C. – Today, Colonial Parking, the largest parking operator in the Washington, D.C. Metropolitan Area, has announced an exclusive partnership with Parking Panda, the nationwide leader in online parking reservations, to begin integrating its locations with PandaScan, a new cloud-based solution that integrates cutting-edge scanning hardware technology with Parking Panda's digital and mobile parking platform. PandaScan scanners will be installed in select Colonial Parking locations in the Washington, D.C Metropolitan Area and will provide Colonial Parking customers with an unprecedented automated parking experience from start to finish.
"Enhancing and improving the customer experience is our top priority at Colonial Parking," said Andrew Blair, President and CEO of Colonial Parking. "Partnering with Parking Panda and installing their new innovative PandaScan technology in our garages indicates our sustained commitment to that priority. We're excited about this new automated system because we believe it will provide residents and visitors of the Nation's Capital with an even easier process getting in and out of our facilities and an overall seamless experience."
"Colonial Parking has been a forward thinking partner since we entered the Washington, D.C. Metropolitan area to bring our stress-free parking experience to all drivers," said Nick Miller, CEO of Parking Panda. "It's fitting that we deepen our partnership by exclusively introducing PandaScan with Colonial Parking. We look forward to installing our new automated technology at Colonial Parking garages and entirely innovating the experience to help our customer's park smarter and happier."
PandaScan technology has already been activated at over 14 locations in the area and will be installed in 25 Colonial Parking locations throughout the greater D.C. metro area by the end of 2015. Locations enabled with PandaScan technology are designated on Parking Panda's website as "PandaScan enabled."
PandaScan is a branded on-site scanning technology integrated with a digital platform, enabling it to deliver a seamless experience for Colonial® customers from start to finish. Drivers simply reserve parking in advance or in real-time through Parking Panda's apps or on their website. When a reservation is made, the customer will be given a unique QR code that can be shown by mobile app or printed out for convenient access to the selected location. There is no longer a need to worry about an attendant, allowing for easy entry and exit at the
customer's discretion. Customers have full control over their parking experience and save valuable time.
---
About Parking Panda
Parking Panda is the nationwide leader in online parking reservations for daily, monthly, and event parking and list thousands of parking locations across more than 40 cities. The company's mobile apps and website provide an efficient and easy way for drivers to find and reserve guaranteed parking spaces at parking lots, garages, and valets in their city. Parking Panda partners with parking operators, event venues, ticketing companies, events, and professional sports teams nationwide to seamlessly integrate the availability of third-party parking facilities for venues, games, and events. For more information, visit http://www.parkingpanda.com.
About Colonial Parking
Colonial Parking, Inc.® is a full-service parking management company offering operating, managing, controlling, designing, and parking advisory services. Founded in 1953, Colonial is the largest local parking operator with a portfolio of more than 250 facilities containing over 100,000 parking spaces in DC, Suburban Maryland and Northern Virginia.
For more information on Colonial Parking please visit www.ecolonial.com or contact William Cook at 202-295-8100 or marketing@ecolonial.com.