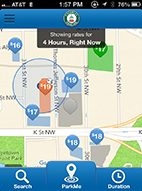 Colonial Parking®, in partnership with ParkMe, now offers drivers real-time occupancy information in garages across the DC Metropolitan area
WASHINGTON, D.C. — Today, Colonial Parking, the largest parking operator in the DC Metropolitan Area, has announced that it will exclusively provide real-time occupancy information for more than 100 of their parking facilities in DC through its partnership with ParkMe, the leading provider of real-time on-and-off street parking information. This new feature allows each Colonial® customer to personalize the parking experience by receiving recommendations based on the driver's location, the type of vehicle, and duration of the driver's stay. The real-time information will be available on both Colonial and ParkMe's parking app, in addition to Colonial and ParkMe's websites.
Colonial Parking's ParkMe app allows the data from Colonial's locations to be streamed to mobile phones, in-car navigation systems, GPS devices, and Colonial Parking's website (ecolonial.com).
"Providing real-time information to consumers enhances customer service and adds yet another amenity to Colonial Parking's partners and retail consumers." said Andrew Blair, President and CEO of Colonial Parking. "We believe providing residents and visitors to the Nations Capital real-time parking information is groundbreaking for the industry and will serve our clients and community for years to come."
"Being a part of Colonial's real-time launch is instrumental in expanding our database and customer offerings," Sam Friedman co-founder and CEO of ParkMe, said. "We are excited to add a majority of DC's parking structures to our catalogue of real-time solutions because we know how big of a problem it currently is to the city's residents."
ParkMe recently announced partnerships with INRIX a leading provider of traffic data to in-car navigation systems. ParkMe and Colonial Parking are planning further service innovations in the coming months as a part of their expanding cooperation.
Go to the iTunes Store to download Colonial's app.  The data is also available through the parking locator℠ on Colonial's website, and through ParkMe's new mobile website available on all devices.
###
About ParkMe
Based in Santa Monica, Calif., ParkMe is the leading provider of parking information to navigation companies and smartphones. Founded by Sam Friedman and Alex Israel, ParkMe's mission is to make parking easier. ParkMe collects and aggregates data about both on-street and off-street parking and has built the world's most comprehensive parking database. This includes more than 25,000 worldwide locations in more than 500 cities, 19 countries and three continents. ParkMe's free app, ParkMe, helps drivers find parking in real time from their smartphones. For more information on DC parking information, contact info@parkme.com. ParkMe can be found on the web at www.parkme.com, on Twitter @TheParkMeApp, and on Facebook www.facebook.com/theparkmeapp
ParkMe is backed by a highly respected group of investors, including Fontinalis Partners and IDG Ventures.  Fontinalis Partners is a leading transportation technology strategic investment firm founded by Bill Ford, Ralph Booth, Mark Schulz, Chris Cheever and Chris Thomas. IDG Ventures is a global network of venture capital funds with approximately $5 billion under management and a portfolio of over 220 companies built over the last 15 years.  For more information about ParkMe, please visit: www.parkme.com. 
About Colonial Parking
Colonial Parking is a family-owned and locally-based company dedicated to providing unparalleled service to parkers throughout the Metropolitan Washington, D.C. area. Our relationships with property owners and property managers—our clients—are marked by integrity and accountability.
With more than 220 parking facilities serving office buildings, retail malls, hotels, sporting events and hospitals, Colonial offers convenient parking for tens of thousands of residents and visitors every day, from Capitol Hill to Georgetown and from Old Town to Bethesda. In the District of Columbia alone, 90% of all commuters are estimated to work within two blocks of a Colonial facility. No other parking company comes close to offering such widespread convenience.
For more information on Colonial Parking please visit www.ecolonial.com or contact Sharon Wills at 202-295-8150 or Swills@ecolonial.com.