ONLINE RESOURCES:                                    
PRINT RESOURCES:
---
FAQs:
Q: How can I apply for Monthly Parking?
A: Fannie Mae FTE's may register for parking on a first-come, first-served basis, until the maximum number of parkers per lease has been met. Priority will be given to Primary residents of the building. To apply for an account, the individual must be confirmed as a Fannie Mae employee. You may apply online here. [8] Please note that AutoPay® is a requirement of this parking facility. Issuance of parking credentials and gate access will be given within 48-hours. (https://www.ecolonial.com/locations/fannie-mae-monthly-application/ [8])
Q:  What if there is no more availability?
A: Qualified applicants will be placed on a waiting list in the order in which they have applied. You will be contacted when space becomes available to accommodate your request. Visit us here [1] to explore additional monthly parking options through Colonial® locations nearby or take advantage of alternative community options. (https://www.ecolonial.com/standalone/fannie-mae-parking/ [1])
You can also purchase parking by clicking here [4].
(https://www.ecolonial.com/standalone/midtown-center-parking/ [4])
Q:  When is my monthly payment due?
A: Your monthly payment is due on the 1st day of each month. We invoice between the 5th and 8th of each month for the following month. Late payments may result in interruptions to your parking access. Non-refundable late fees are applied to your account if payments are received after the 5th of each month.
Q:  How do I make a payment on my account?
A: Upon signup, you must enroll in the Colonial AutoPay Program; payments will be debited from your account on the 1st business day of each month.
Q:  How does AutoPay work?
A: Monthly parking payments are automatically deducted from your checking account or charged to your credit card on the 1st business day of each month. If your payment does not successfully process, please contact us immediately. Non-refundable late fees will be applied if your payment does not post successfully.
Q:  What should I do if I have lost or broken my garage access device or credentials?
A: If the device is not working, first ensure that it is properly mounted. If that does not work, contact our Customer Care Team as soon as possible to request a replacement access device. A replacement fee of $XX may be issued for a lost or broken garage access device.

Q:  Will I have a specific parking spot as a monthly parker?
A: No. While you are guaranteed a space in the garage, you do not have a specific spot. It may be necessary, on occasion, to leave your keys with an attendant.
Q: What are the options should the building not be able to accommodate the Fannie Mae employee parking demand?
A: Colonial Parking® shall make available additional parking inventory in surrounding parking garages to supplement the available parking to Fannie Mae employees. Please note these rates may differ from that of 1150 15th St., NW.
Please visit us here [1] to review alternative monthly parking options in real time. (https://www.ecolonial.com/standalone/fannie-mae-parking/ [1])
Q: If I chose to park occasionally, is there a daily parking option within the building?
A: The Fannie Mae parking area will be within a public parking facility where daily parking shall be available on a space availability basis at average market parking rates. You can reserve guaranteed parking by clicking here [4]. (https://www.ecolonial.com/standalone/midtown-center-parking/ [4])  
Q: How will Fannie Mae Monthly Parking work?
A: Colonial Parking will open with a state-of-the-art parking access and revenue control system at 1150 15th St., NW. Fannie Mae FTE's who have monthly parking at this facility will be issued a transponder, which must be mounted to the inside windshield of your vehicle (as shown below) to access the facility.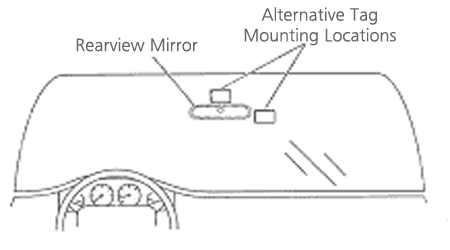 Q: Where do I park?
A: Upon entering the facility, all Fannie Mae parkers who have a transponder must proceed through the garage perimeter entrance and follow signage to the Fannie Mae ONLY parking area. There is a roll-up door at the parking area that your transponder will activate in order to enter this zone.
As you enter the garage, your transponder shall allow you entry to the entrance gate and then again as you proceed through the overhead gate to the nested Fannie Mae area. The same double access process will occur upon exit.  Only one vehicle per account holder will be permitted to park at a time.
The parking area consists of self-parking, tandem spaces and attendant assisted parking spaces.  Use of these spaces shall be subject to availability (first-come, first-served basis) or as directed by a Colonial Attendant.  When the facility has reached the maximum number of parkers using self-parking, lined spaces, Colonial staff shall institute the "Attendant Assist Parking" process. Attendant Assist Parking is similar to valet, but with the driver self-parking the vehicle and leaving the key with the attendant for safeguarding. This is to ensure that vehicles can be moved when needed.
Q:  What if my transponder does not work?
A: If your transponder does not function to allow you access to the facility at any point, pull a ticket and park inside of the P1 public parking areas; contact Fannie Mae Parking Management immediately at (202)558-8919, or by email at parking_management@fanniemae.com [9]. You may also use the "assistance" button located at paystations and entry/exit gates. Note: There is no intercom at the entry/exit of the Fannie Mae nested area.
Q: I do not have a Monthly parking account at this location. Can I park here?
A: All personnel who do not have a monthly parking account may still park, however not inside the Fannie Mae nested area. You will enter the garage as a daily parker, and pull a daily ticket and park on the 1st level of the parking garage (public garage). This ticket must be paid for (at your expense) prior to departing the garage.
Q: What if I cannot find a self-parking space and need assistance?
A: Colonial will offer attendant assist while inside the Fannie Mae parking areas, on both floors. If you need help upon the main entry/exit of the garage, simply press the assistance button on the equipment and you will be directed to Colonial Parking's 24/7 Remote Management Center. The RMC is capable of assisting customers with the payment and/or validation process, as well as opening the gates if needed. In the event of an equipment malfunction, or someone being trapped in the facility, assistance will be dispatched.
Q: What do I tell my guests/visitors?
A: Guests and visitors may be approved to receive a Fannie Mae provided parking validation. Please submit a "Parking Validation Request Form" through the Parking Sharepoint Site [10]. (Note: Sharepoint only accessible through internal, Fannie Mae computers) Parking for guests/visitors is provided on the P1 level (public parking) of the parking facility. If no validation is provided, payment must be made at parkers' expense. If you are not approved for parking validation, you can reserve parking by visiting us here [4]. (https://www.ecolonial.com/standalone/midtown-center-parking/ [4])
Q: Where do I pay for daily parking?
A: Payment may be made at Pay-On-Foot terminals located by the elevators, as well as upon exit. Please note, cash is only accepted at the Pay-on-Foot machines. Validations may be used at any payment station.
Q: What if I have additional questions?
A: For general parking questions, please contact the Parking Portfolio Manager at (202) 558-8919, or by email at parking_management@fanniemae.com [9].