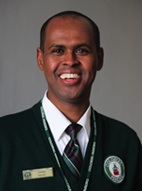 Colonial is pleased to announce that Hassan Abukar has been honored as Employee of the Year for 2010. Chosen from a large field of eligible honorees, Hassan distinguished himself based upon his tireless dedication to customer service, his ability to promote a service orientation among those with whom he works and his success in delivering results in complex situations. Said Senior Vice President Bereket Woldu: "He is the best and delivers the best!"
Hassan began his career at Colonial in 1990 as an attendant. His leadership abilities were quickly realized and he began to hone his skills as a staff manager. For the first part of 2010, Hassan was a shift manager at Location 199 – Democracy Center – where he managed a large and complex operation that included both lots and a large garage offering self and valet parking. His large staff at the garage was routinely praised for their passion for excellent service. Hassan finished the year at #563 – Chase Tower at 4445 Willard Avenue – which services the headquarters of the Ritz Carlton. Working in a complex garage with a heavy stacking requirement, Hassan continuously motivates his staff to provide extraordinary services.
In his 20 year career at Colonial, Hassan has previously been recognized as Employee of the Quarter and his staff at Democracy Center were honored as Team of the Quarter.