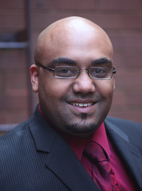 Amir Abdella was chosen as the 2010 Manager of the Year because of his tireless commitment to his team and our clients at The Waterview at 1919 No. Lynn St., in Arlington, a 900 space parking garage that serves a vibrant mixed use project that includes the offices of the Corporate Executive Board and Deloitte, as well as the Palomar Hotel and high-end condominiums. Amir's ability to gain the trust of the project's owners and stakeholders is just one of the reasons for his success. Amir has proven to the project's property managers that he is the "parking expert" and has strengthened the relationship by responding quickly to their needs and providing relevant and actionable information. His ability to balance monthly and transient parkers, his knowledge of seasonal parking trends and his keen business sense have contributed to profit maximization and revenue integrity.
An exceptional manager, Amir has set an excellent example for his team. He has gained the respect of his employees by being a fair and consistent leader. He sets high expectations for himself and his team that enhances and protects Colonial's brand and reputation. He's not afraid to valet a car and become part of the team when needed, yet provides vision and leadership for special events and occasions.
Colonial celebrates Amir Abdella's performance and is glad he is such an important part of our team.