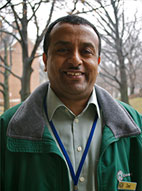 It gives Colonial great pride to showcase Senior Operations and Revenue Control Manager Dawit Tsega as Manager of the Year.
"Dawit's 'lead-by-example' approach makes everyone else around him work harder to keep up," said Brian Watts, General Manager of the National Institutes of Health parking facilities. "He has no issues jumping right next to any Attendant or Shift Manager to show them how the job should be done. Dawit displays a 'no-nonsense' approach to problem-solving, taking on any issue or concerns head-on. This has earned him respect from everyone at NIH."
Dawit joined the Colonial family in 1998 and proved himself worthy of a promotion to Senior Operations Manager after many notable achievements; on a campus that averages 1,000 vehicles moved per day, he has led the NIH team to 170 days without an accident or a key loss, and has never had a cashier shortage.
Dawit's reputation for being open-minded and eager to improve Colonial's image on the NIH campus has been noticed by many – his personnel folder is full of positive customer feedback and letters to prove it. Comments frequently laud Dawit as "saving the day," "quick and professional" and a provider of "outstanding assistance."
Not only does he make his mark with customers, but within Colonial's own auditing standards, as well.
"With his cooperation and willingness to move away from traditional Colonial approaches, we have established the strongest auditing procedures within the company," explained Watts. "Over my tenure at Colonial Parking®, I have had the privilege of working with and alongside some of the strongest Senior Operations Managers and Project Managers in the Colonial family. I can confidently say that Dawit is one of the best of them," he added.