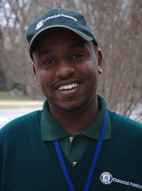 Each year Colonial Parking® selects one employee who has excelled in his or her duties and recognizes this individual for making outstanding contributions to the company. For 2011, Colonial is honored to have chosen Shift Manager Mustafa Abdi as Employee of the Year.
"Mr. Abdi goes way beyond the need for finding parking solutions," wrote one customer in praise of our employee of the year. "There were many times I could not find parking and he has been very helpful and accommodating, and not only to me; he accommodates visitors, contractors, employees, seniors and pregnant employees without hesitation to find parking solutions. During snow, rain and events which make parking unbearable, Mr. Abdi will comply without hesitation to accommodate all who need it."
Mustafa has a humble demeanor but takes pride in leading by example, proving each day that he is an exceptional Shift Manager. Many other customers have also taken note of his service, sending him letters of gratitude and appreciation.
"Mustafa is a natural at providing service," explained General Manager at the National Institute of Health, Brian Watts. "Most people see a situation where they can be helpful and then it takes a minute for them to react; Mustafa is already in place helping."
Whether it's meeting a customer with an umbrella in the rain, lending a hand to someone carrying a heavy burden, or recognizing customers and squeezing them into a jammed lot so they're not late for a meeting, Mustafa is always the first to step in.
"His interaction with his peers and our customers is exceptional," said Watts.
Mustafa was hired in 2000 and worked as an attendant until he was promoted in December 2009 to his current position as Shift Manager at the National Institute of Health.