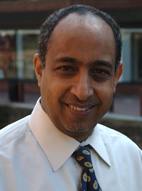 It gives Colonial great pride to showcase Project Manager Paulos Tadesse, who has evolved and proven himself in just over a year with Colonial Parking®, as Manager of the Year.
"He established a great and respectable relationship with the clients, and demonstrated his leadership quality with measurable results," said Senior Operations Manager Dagnachew Thomas. "Clients at all his locations have communicated their respect and appreciation for his quick responsiveness and problem-solving skills – they've shown a great deal of confidence in him."
Ever since his employment with Colonial, Tadesse has managed to upgrade our Customer Care Center and Project Manager's office with little or no cost, allowing Colonial to advance the center's hours of operation to be open 24/7. His dedication has led to an increase in customer service and boosted financial performance and accountability to outstanding levels.
Tadesse was first hired in June 2010 as a Temporary Attendant at Nationals' Stadium, and in less than two months was promoted to full-time valet and attendant at another Colonial parking facility. Just a week later he was given the position of Shift Manager at Fairlakes – considered a difficult and distant parking facility – and performed his duties exceptionally well. Due to temporary construction taking place during his employment, every single car at Fairlakes had to be valeted in a garage strapped for space. Tadesse resourcefully moved the cars in and out for customers in the morning, at lunchtime and again in the evening with tremendous skill, endurance and patience.
In December his efforts were rewarded, and Tadesse was promoted yet again to Assistant Project Manager at another challenging facility. Finally, in July of 2011, he was promoted to his current position as Project Manager at three separate locations at the U.S. Patent Trademark Office, 425 3rd Street SW and the Carlyle Overlook.
Paulos has a Bachelor's Degree in Electronics Engineering Technology. Prior to joining Colonial, he managed and led an International Advertising Company, responsible for coordinating and producing variety of graphic creations and services, bringing new life to brands, companies, products and everything in between. After 14 years of dedicated service, Mr. Tadesse decided to move From Ethiopia to America with his wife and three children."